Hello and welcome to the Whimsy Stamps August new rubber and die release BLOG HOP!
On August 10th, Whimsy Stamps released our August rubber designs and new dies. Today we are hosting a blog hop to celebrate this release and to share creations made using these 15 fabulous new Rubber Stamps and 3 wonderful new Shapeology Dies. These new goodies are available to buy right now from the Whimsy Stamps store along with all your Whimsy favourites. We also have our wonderful special guests joining us for this hop – Elaine Hughes, Zoe McGrath, Alberto Gava and Iwona "Chupa" Palamountain. The Whimsy Stamps DT have been showcasing these fabulous stamps for the past 6 days, so if you missed them be sure to hop on over to the Whimsy Inspirations Blog for some more inspiration! Here is a full list of the wonderful new August release rubber stamps and dies:
3 stamps from Crissy Armstrong

Bart Goes Golfing ~ Butterfly Sympathy ~ Hang In There
4 stamps from Meljen's Designs

Cupcake Treat Trio ~ Monkey Toes ~ Pen Pal Mouse ~ Topsy Turvy Cake
4 stamps from Kenny K

Bathing Beauty ~ Buggin Drummer ~ Wanda Wicked ~ Wedding Garter
4 stamp sets from Raindrop Echo Designs

Bottle Cap Sentiments ~ Film Markers ~ Schoolyard Fun ~ Vintage Seed Packets
3 dies/sets from Raindrop Echo Designs
Elegant Butterflies Die Set ~ Bottle Cap Die (coordinates with Bottle Cap Sentiments stamp set) ~ Film Marker Die (coordinates with Film Markers stamp set)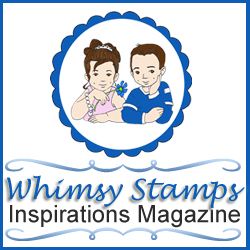 Today is also the release of the second edition
of the Whimsy Stamps Inspirations Magazine!
The magazine features never before seen samples and tutorials from our DT members as well as some creations from our customers and fans too! This issue is crammed full of crafty goodness and best of all it's FREE! Just click the link below and you will be taken to the magazine where you can read it online or download it and save to your computer.
———————————————————————————–
"It's AWESOME and you'll even see a tutorial I created about how to mask your rubber and digi stamps together
AND the Make it Crafty & Whimsy girls, teamed up to share some amazing cards merging our images together.
You HAVE to go check it out!!!

"
———————————————————————————–
YOU are at the BEGINNING of the HOP!!! 
(A little intimidating for me actually – ha! – but at least you'll know there is so much talent to come!!)
The hop starts today (Wednesday August 17th at noon EST) and ends on Wednesday August 24th at noon EST.
For this hop we have 7 different prize draws!
We have not one, but TWO grand prize draws, so two lucky hoppers will win a large selection of new release stamps.
Grand Prize 1 will be for those who help us advertise the hop, and
Grand Prize 2 will be for those who hop along with us.
We also have 5 mini candy stops throughout the hop where you can enter to win a new release stamp!
I'm not going to tell you where they are, so if you haven't found them you'll just have go back to the beginning and start hopping! *wink*
My creation!!
Ok I have to admit, when I found out I was going first, I just about had a heart attack… because, I didn't do the 'normal' what could be expected of me creation…
I… didn't colour. argh!!
So naturally, I thought, Oh noooo, I can't be first!
However… I still like my card. 🙂 And I am pretty certain, I mean I KNOW that there will be PLENTY of amazing colouring as you continue your way through the hop. 🙂
I wanted to play and show off these new vintage seed packets sentiments by Ann because as soon as I saw them this idea popped to mind!
It's simple, but I think it is perfect for a garden lover. 🙂
I had originally attempted to use all four on the same card but for some reason my brain wasn't getting it right. lol
I am sure one of you awesome card makers would be able to pull it off!!
Papers are Graphic 45 and Websters
Flowers from WOC
Flat back gems from Quixotic paperie
So now it's time for you to continue the hop by hopping over to the gorgeous and fabulous
If you get lost along the way somewhere – just hop on back here to find your way!
Thanks so much for popping by and I guarantee you'll be blown away as you hop on through!
Big Aussie Squeezes!!
Zoe xxoo